There are many different types of warehouses performing many different services and functions – and every warehouse is different. But any facility can benefit from indoor navigation solutions to significantly increase profits and efficiency.
If you've never heard of indoor navigation in this context or even at all, heads up! In this blog post we'll cover three of the biggest benefits of leveraging indoor navigation solutions to your warehouse: Overall work security, efficiency and asset tracking.
Let's get started!
1. Increase The Overall Security In Your Warehouse With Indoor Navigation Solutions
There are many good reasons to protect the health and safety in your warehouse. Your employees are the engine that drives your business. And if they are safe, they will enjoy their work more, be happier and more productive! So it should always be your number one priority to invest in the wellbeing of your workers.
One way to do so is to implement an indoor navigation system that helps you work out the best trips for your forklifts to avoid collisions and unsafe routes that might put your employees at risk.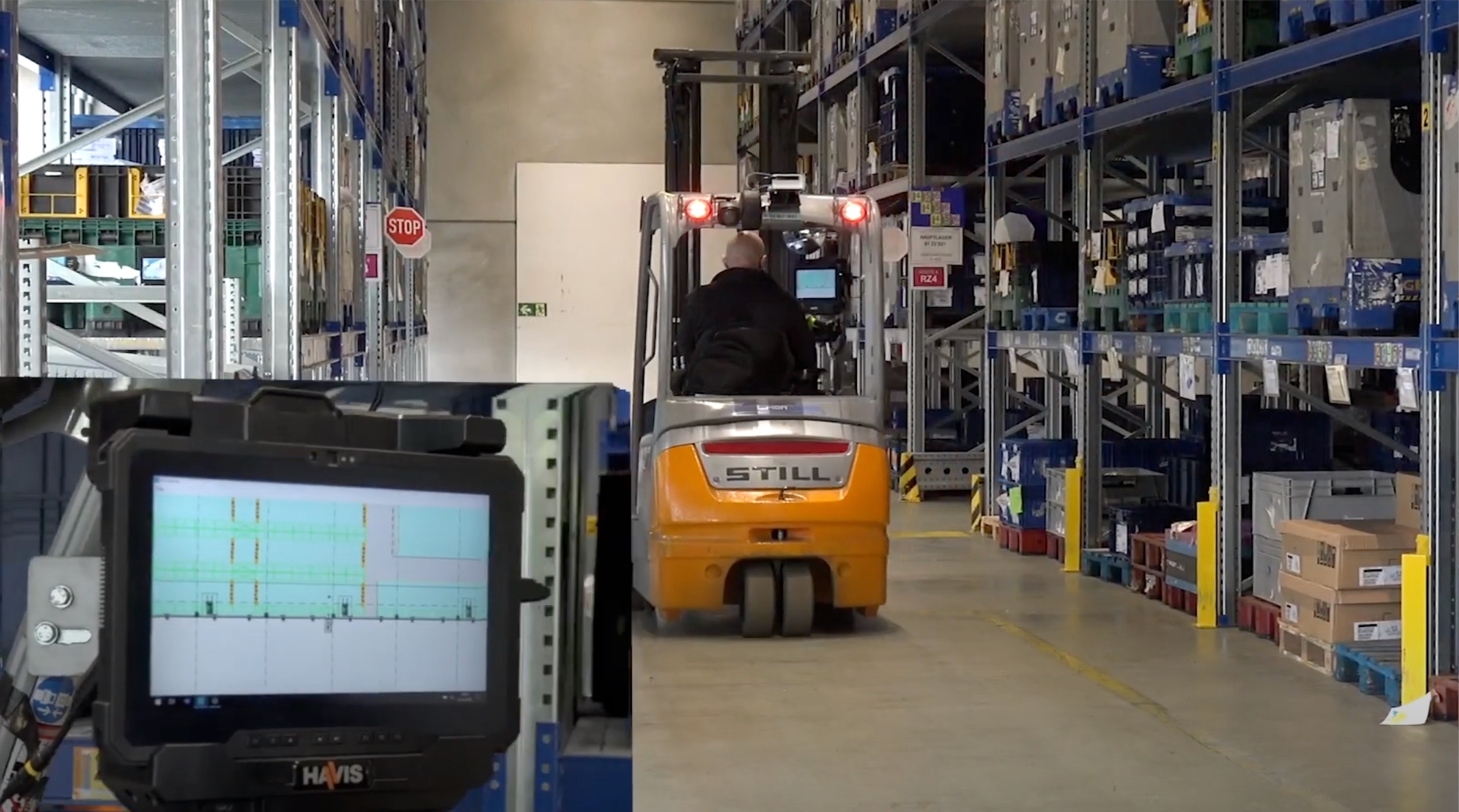 Safety measures like instant security alerts if a forklift takes a wrong turn is just one example of how you can make your warehouse a safer place.
2. Achieve Higher Fleet Management Efficiency With Warehouse Indoor Navigation
But not only do indoor navigation solutions make your workplace safer, they are also incredibly useful if you want your business to become more efficient.
Here is how indoor navigation can increase the efficiency of your warehouse:
Find the fastest routes – Indoor navigation solutions will show you the fastest route from A to B and identify the best trajectories. This way you will be able to save time – and money!
Track your performance – By using precise real-time tracking you can obtain vital data when it comes to fleet and warehouse performance comparison. Monitor your fleet's routes and stops to make sure that they are functioning efficiently. Using the data collected, you can measure how your current system is performing and improve the current workflows if necessary. 
Optimize your workflows – Avoid empty forklift rides to increase efficiency in your warehouse or fulfillment center.
Avoid suboptimal picking – If picking isn't done the right way, you are wasting time – and money. Efficient picking minimizes movement and time and maximizes units picked per hour.
Achieve good space utilization – Identify items that are most frequently picked and increase space utilization to lower the costs.

3. Save Time And Reduce Difficulties With Indoor Positioning For Logistics And Asset Tracking 
A warehouse worker attempts to retrieve a product from an expected location but it's not there. Does this scenario sound familiar to you?
Save yourself from a lot of trouble and ensure smooth processes in your everyday tasks. Thanks to indoor positioning for logistics in the form of asset tracking, there will be no more incomplete or inaccurate records causing misplacement or loss of goods. you will always know where your goods and machines are stored. 
And the best part about it: For the best automatization the asset tracking can be integrated in your warehouse management software making the technical implementation of software and hardware quick, safe and easy.
Indoor Positioning Solutions Will Be A Game Changer For Your Business – Find Out More Now!
Increasing overall security in your warehouse, achieving higher fleet management efficiency and saving time with asset tracking are just three of the many benefits that leveraging indoor positioning solutions can bring to your warehousing company or ecommerce fulfillment services.
Discover the hidden potential of your warehouse and their fleets by utilizing our easy to implement and cost-effective AR-based logistics positioning solution Insider Logistics 4.0. It doesn't require a hardware-heavy setup, hence it's lightweight, cost-efficient and super easy to implement!
Simply optimize your existing fleet by adding small cameras and sensors to your forklifts. In less than 10 minutes you are ready to go!
Interested In Seeing Insider Logistics 4.0 In Action? We'd Love To Help You Increase Your Warehouse Efficiency, Security & ROI
Want to find out more about our indoor positioning solution including full fleet management and forklift tracking to increase your efficiency and business ROI?
Please schedule a live demo or reach out using our contact form to see a free of charge personal demonstration via video call which will change your perspective and provide several wow-moments.