Indoor Navigation and Positioning Solutions Were Too Expensive for Most Small and Medium Sized Businesses….
The use of indoor positioning technologies for logistics, warehousing or maintenance businesses will be inevitable for most in order to stay competitive in the near future.
That's what our founder Clemens Kirner figured out while gathering experience in the field of indoor navigation solutions many years ago in the early 2000's.
Unfortunately, at this time, there was no big variety of solutions available. Most of them were based on a hardware-intense and expensive setup. LIDAR cameras, beacons and other IoT devices were necessary to enable businesses to benefit from this technology.
Today, most indoor positioning solution providers still offer hardware-heavy and expensive solutions.
Our AR Based Solution Is Highly Cost Effective and Provides Even More Features Than Hardware-Heavy Systems
In collaboration with the Technical University of Vienna, we developed a new product to conquer conventional solutions.
The result is our AR based indoor navigation system that only costs a fraction of conventional solutions.
Partnering up with some of the biggest car manufacturers in the world like Volkswagen and leaders from other industries, we were lucky to get an opportunity to prove that our AR based solution does not only provide the same capabilities as conventional, hardware-heavy solutions but even more! The results were outstanding.
Since then, many companies have joined and INS was able to build a portfolio of more and more cases-studies to show the world that our product is highly cost-effective and offers a huge variety of key-features that help our customers earn more money by optimizing their workflows and overall efficiency. 
The One-Stop Solution: We Are Industry-Experts Offering Full-Service Solutions to Maximize Your Business Success
Developing a technical platform that runs on all kinds of devices, both cloud based and on-premise, was an important step for us. Our highly cost-effective AR-based solution also sets us apart from conventional service providers.
But having a great product wasn't enough. We also needed to make sure our clients get the best out of it too! That's why we specialized in providing true Full-Service Solutions for our customers.

We're specialized in the areas of:
Logistics & Warehousing – Warehouse management, including indoor positioning tracking, fleet-management and forklift-tracking solutions.
Workforce Management – Providing the technical foundation to manage your workforce effectively as well as defect-management for industry applications to avoid costly mistakes.
Facility Management – Increasing the efficiency of property managers by providing full indoor navigation maps with specific maintenance checklists.
Custom solutions – The InsiderNavigation platform is flexible and can easily be customized to fit any case and requirement.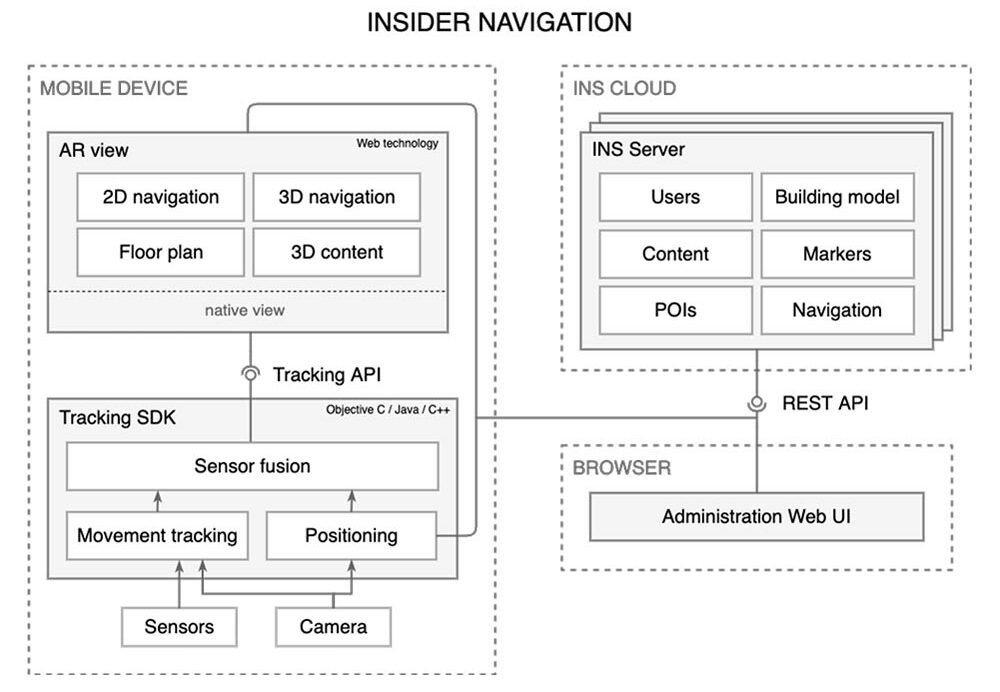 Book Your Personal Demo-Session Now and Find Out How We Can Help You Improve Your Business Workflows
Starting from the personal evaluation of your needs to implementation and optimization – we manage the entire process for you and with you! Our clients are our partners and we strive to get the best results for them.
Offering a one-stop solution by combining the technical know-how with relevant industry experience enables us to provide a highly cost effective solution for you.
The system can be integrated in all common ERP solutions using our interfaces – making the technical implementation of software and hardware quick, safe and easy.
Showing you our solution in a free of charge personal demonstration via video call or after that also in-person, will change your perspective and provide several wow-moments.
Use our contact form or pick your date and time to schedule your free live demo right away!